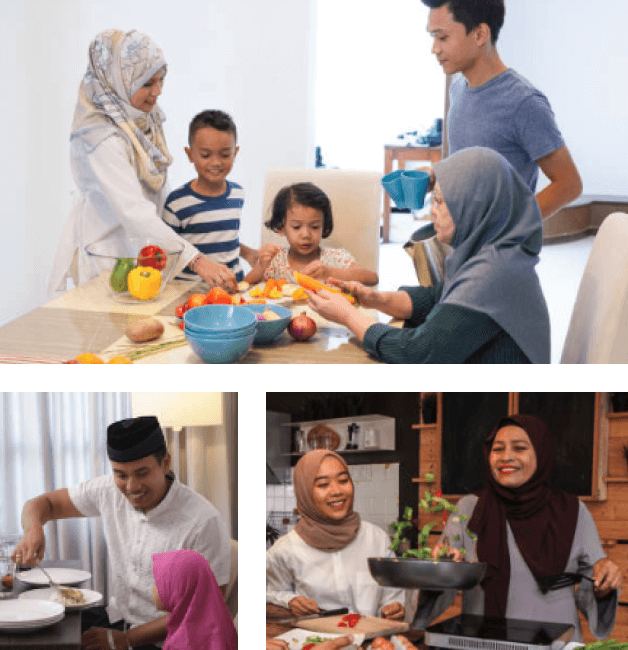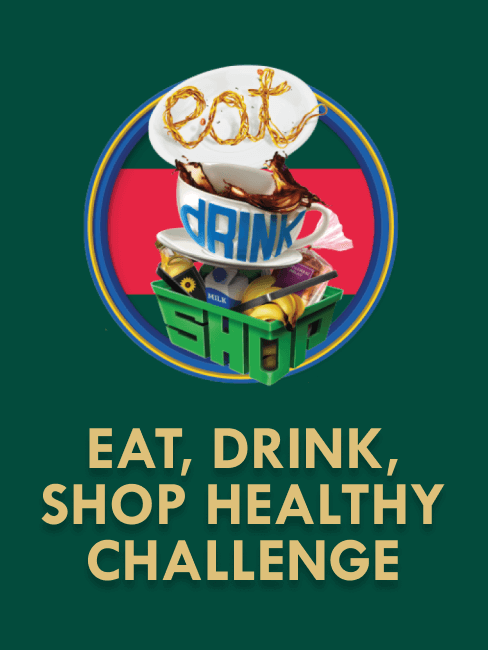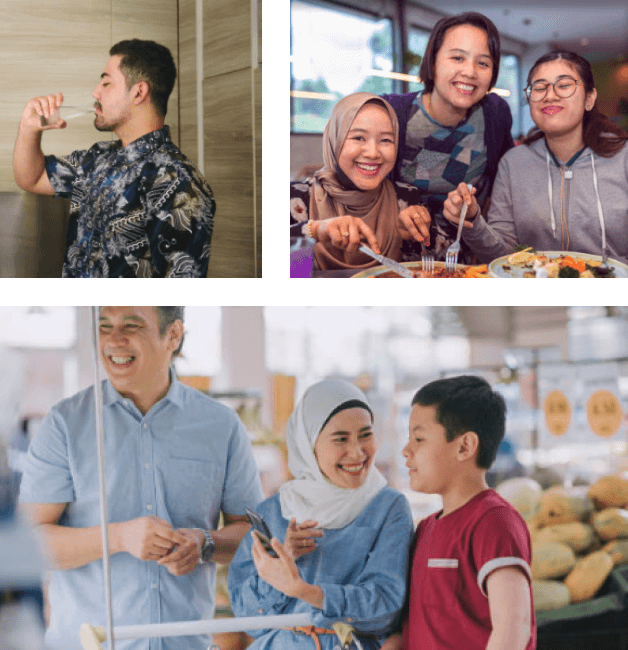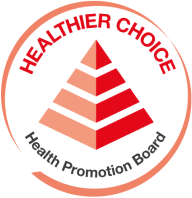 1

CHOOSE HEALTHY

Purchase the Healthier Choice items from participating Eat, Drink, Shop Healthy partners to receive QR codes.

2

SCAN QR CODE

Scan QR Code with Healthy 365 app to earn stamps and Healthpoints

3

REDEEM REWARDS

Earn sure-win rewards as you collect stamps and redeem supermarket eVouchers with Healthpoints.
JOIN THE CHALLENGE
Cook More Often for More Control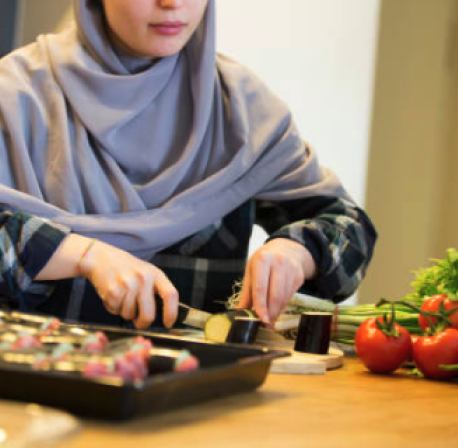 Homecooked meals are simply sedap and remembered for generations. Maybe it's because the rempah is lovingly made from scratch, or because the ingredients are carefully selected. Regardless of how it's prepared, there's just something special about homecooked meals that we all love.
When you cook, you have a lot more control over how the dish is prepared, from the ingredients to the cooking methods and even how they are served. It's completely in your hands to use less oil, salt and sugar. You can also choose to stir fry, bake, grill, boil and steam instead of deep frying your dishes.
Serve up your delicious dishes in Quarter, Quarter, Half for a complete and balanced meal. ¼ plate of wholegrains, ¼ plate of protein and ½ plate of fruits and vegetables - that's the way to go!
Isn't it rewarding watching your loved ones savour a homecooked meal while knowing that their wellbeing is taken care of?
Choose Healthier Ingredients and Save More!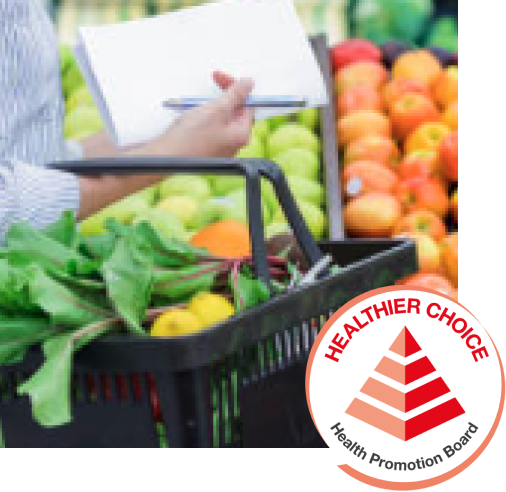 Cooking healthier meals at home for your family begins with healthier ingredients. By making smart choices when shopping for groceries, your family will not only be able to enjoy delicious and nutritious meals but enjoy some savings while you're at it.
How to shop smart and save? Join the Eat, Drink, Shop Healthy Challenge. Whenever you purchase items with the Healthier Choice Symbol from participating merchants, you earn stamps and Healthpoints that can be redeemed for eVouchers!
With more than 4,000 products with the Healthier Choice Symbol, you're spoilt for healthier choices. Sign up now, shop and cook with healthier ingredients to start earning rewards today!
Try Our Simple-to-Follow
Tasty Recipes
If you're looking for some delicious and easy-to-follow recipes to help you master the art of healthier home cooking, our collection of recipes has something for everyone.
Try them out!
CHECK OUT
Halal Healthier
Dining Outlets!
As much as we love homecooked meals, there are days when we prefer to dine out because of a hectic schedule or celebrating special occasions. Enjoying a scrumptious meal while still eating healthy when dining out is now possible. You can take your pick from casual dining cafes to family-friendly restaurants serving a comforting plate of nasi padang or trendy fusion dishes. Simply look for items with Healthier Choice Symbol on the menu, and you'll be enjoying a meal that is lower in sugar, calories, and/or higher in wholegrains.
Discover Healthier Halal Eateries
Tips on Eating Healthy While
Dining Out
Follow these 3 tips on simple ways to care for yourself and loved ones when dining out.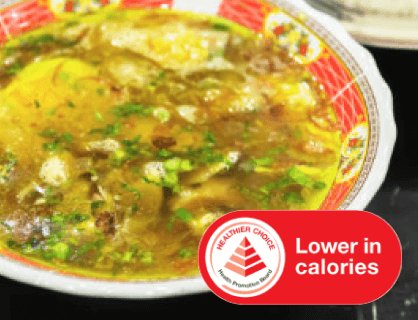 Opt for meals with 500 kcal or less
Stick to this meal option and you can easily stay within the recommended daily calorie intake for adults. What do 500 kcal meals look like? They include sumptuous and tasty like piping-hot bowl of mee soto. Check out our 7-Day Calorie Plan For Dining Out for more inspiration!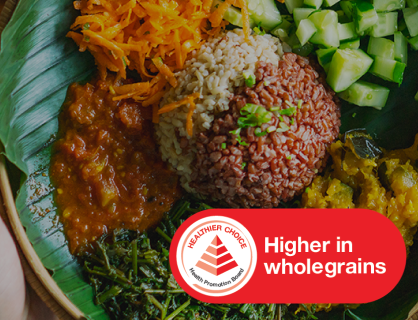 Make the switch to wholegrains
Love your Nasi Padang? We all do. Eating healthier does not mean you have to give them up. Simply switch to wholegrain such as mixed brown rice as it may lower the risk of heart diseases, diabetes and certain cancers. It can also help with weight management as it leaves you feeling full for a longer period. You can do the same for noodles, too. Next time you order mee siam, mee rebus and mee goreng, go for wholegrains.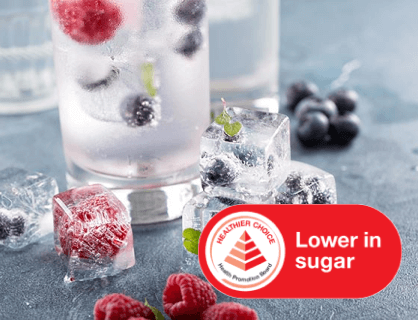 Pair your meals with lower sugar drinks
Drinks are another way we can cut down on excess sugar and calories. The best option is to bring along a bottle of water with you wherever you go and make that as the default option to pair with your meals. If you're buying flavoured drinks, choose the lower sugar options or ask for 'less sweet' so that you can continue to enjoy your favourite bubble tea, bandung or even teh tarik while staying healthy. What's more, you can also earn Healthpoints and redeem eVouchers when you buy healthier options from participating partners under the Eat, Drink, Shop Healthy Challenge.