Choose what you'd like to read
Supporting our friend
Whichever stage of our lives, friendships can enrich our lives in many ways. They can provide us with the companionship and the support we need, but a healthy friendship is also a two-way street.

When our friends are going through difficult times, we can provide them with the comfort and support they need to manage life's challenges. We can often be a key source of support, especially if we notice that they are struggling.

Read on to learn how we can better support our friends' mental health and well-being.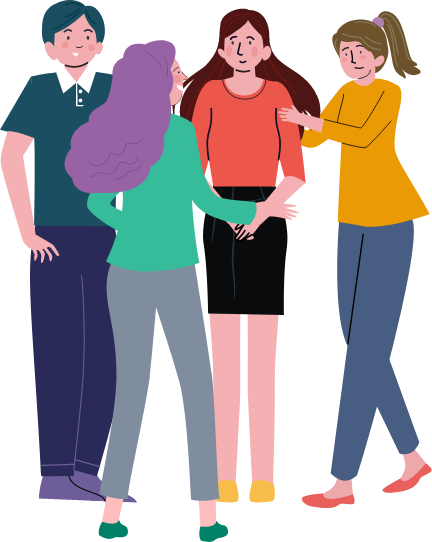 Tips on supporting our friend
We are an important source of support to our friends and may have a healthy and strong relationship with them. We might also be better able to tell if they are dealing with day-to-day challenges or struggling with a larger problem.

Here are some tips on how to check in with them and provide support:
Starting a conversation
Starting a conversation with our friends about their well-being can be difficult. To help us navigate challenging conversations with empathy and care, you can pick up some useful conversation
tips here.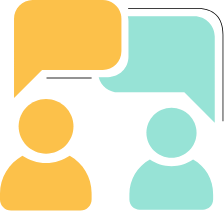 Be supportive and let
them know they are
not alone
Our friends may have a hard time asking us for help for fear of burdening us. If we sense that something is troubling them, we can offer them a safe space to share their thoughts and let them know that we are here to support them.

When they open up, listen to their feelings, thoughts and needs. We should give them the space and time to express what is on their mind. Offering comfort and reassurance can help them feel better, even if we may not be able to help address the problems they are facing.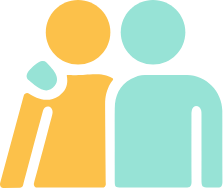 Be mindful of our tone and volume
Our friend may just need a listening ear and for someone to acknowledge their concerns. We can speak in a softer volume and a gentler tone to show them that we care.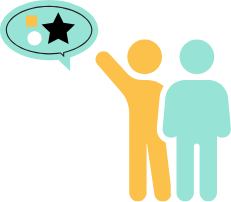 Prioritise their well-being
If our friends are acting unusual, neglecting themselves or endangering their own safety, they may need professional help.
Share with them relevant
helplines
or
mental health resources
and let them know that reaching out for support is the first step to feeling better.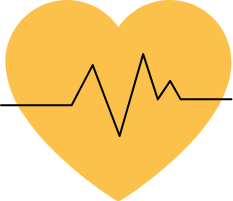 Different mental health challenges
Like all of us, our friends may experience life changes that can affect their mental health and well-being. As a friend, we can learn about some of the mental health challenges they may face so that we can better support them.
There are times when our friends may have trouble falling or staying asleep. If we notice them going through this, we can read more about sleep health and share useful tips to support them in adopting better sleep habits.
New experiences and life transitions can bring about stress. If we find our friends feeling stressed or overwhelmed, we can proactively support them.

For example, we can hear them out or invite them to do activities together to help them de-stress. You can also learn some stress management tips here and share with them.
When things get overwhelming, it is normal to experience intense emotions. We can help our friends learn to be more aware of their emotions and better manage them.

Click here to pick up some tips that you can share with your friends about managing emotions.
It is normal to feel sad occasionally, but if we notice our friends feeling down over an extended period, they could be suffering from depression. To better support them, we can learn more about what they are going through and how to seek help.

Here are some tips on caring for friends with depression:
Be patient and understanding
Depression can drain a person's energy and drive. At times, our friends might appear irritable, impatient, or say hurtful things but try to not take it to heart as these may be due to their condition and not necessarily directed at us.

Here are other things to take note of when our friends are not acting in their usual ways:
Empathise with them
Know that they are trying their best
Do not judge or criticise them
Avoid telling them to be positive or "snap out of it"
Refrain from blaming them or pressuring them to get well soon
Look out for warning signs of suicide
People with depression may have an increased risk of suicide. Be prepared by knowing the concerning behaviours to look out for. If our friends display any signs of suicide, take it seriously and consider seeking professional support.
OCD is one of the top three most common mental health conditions. If our friends have OCD, they might constantly have intrusive thoughts and ritualistic behaviours that cause them distress and anxiety. To better support them, we can learn more about what they are going through and how to seek help.

Here are some tips on caring for friends with OCD:
Manage our expectations and recognise small improvements
Give our friends the time that they need to improve. Their progress may sometimes seem insignificant to us (e.g. a decrease rather than complete stop in over washing their hands), but it might have taken a lot for them to accomplish.

We can encourage them to keep trying by consistently acknowledging their small accomplishments and praising them.
Avoid judging or making negative remarks
Try to remain open and refrain from making negative remarks about their behaviours. Show our support by lending a listening ear and encouraging them to share about their struggles.
Be mindful not to accommodate their obsessive thoughts and compulsions
Avoid offering assurance about their obsessive thoughts or helping them perform certain rituals as it will not be in their best interest in the long term.

Remind them that although performing these rituals may make them feel temporarily better, it will worsen their symptoms in the long run. We can also encourage our friends to seek professional help if it interferes with their daily lives.
It is normal to feel anxious at times, but it can be concerning if our friends often feel uneasy and have trouble controlling their worries. If it comes to a point where their daily life is affected, it might be a sign of anxiety disorder. To better support them, we can learn more about what they are going through and how to seek help.

Here are some tips on caring for friends with anxiety disorder:
Understand that supporting avoidance or forcing confrontation are not solutions
Avoidance is not helpful for their anxiety in the long run. Try not to help our friends avoid situations that they are fearful of (e.g. by taking over their task so they can avoid doing them).

However, remember to practise discretion when doing this. If they start to show extreme fear, refrain from forcing them to confront it as this could cause them additional distress and affect their trust in us.
Encourage them to focus on things that they can control
Help our friends identify what they can and cannot control. Being able to divert their attention and energy towards what can be controlled will help them improve their situation.
Refrain from asking them to stop worrying
Lend our friends a listening ear and validate their feelings instead of asking them to stop worrying. Let them know that it is okay not to be okay at times. We can also guide them to refocus their attention on other activities, like taking a walk, listening to music or going to a quiet corner where they can calm themselves down.
Amid the hustle and bustle of daily lives, we may encounter a fair share of challenges and issues. Be it financial worries, juggling family commitments or pressure at work, these challenges can bring about strong feelings of stress, self-doubt, uncertainty, and fear. When these get too overwhelming, some might hurt or contemplate hurting themselves to seek relief.

Click here to learn more about self-harm and suicide as well as how to help our friends cope with it.
Self-care matters
Supporting our friends while juggling life's demands can take a toll on our physical and mental well-being. Ultimately, the lack of self-care will make it more challenging for us to care for our friends.

Practising and prioritising self-care will allow us to recharge and put us in a better state to provide our friends with the support they need. We should not feel guilty about attending to our needs. Refer to these tips on managing stress and emotions to keep ourselves healthy.