Making a difference by
supporting others
Throughout our lives, some of us may experience hardships and tough periods. When those we care for hit such rough patches, we may notice them acting unusual and showing signs that they are unwell. As someone in their lives, we can play an important role in reaching out and providing the support and comfort they need. For example, we could catch up with them over a meal or coffee, provide them with helpful information and resources, or simply just be there to offer them a listening ear.

While such acts may seem simple, it can make a difference. Knowing that there is someone to talk to and listen without passing judgement, can help them cope better with their struggles. Read on to find out how we can better support those we care for.
How do we recognise who
needs support?
As it may not always be obvious when someone we care for is having a hard time, we can look out for them by
paying attention to:
Are we ready to support others?
To better support someone in need, we can ask ourselves: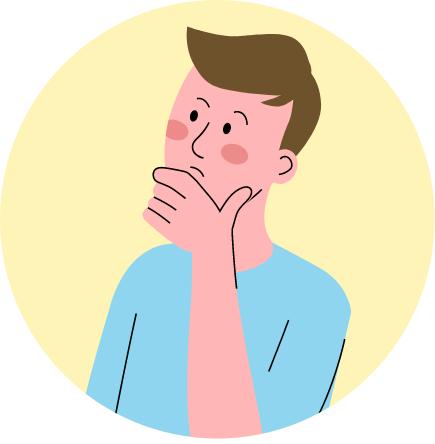 Consider if we are in the right headspace to offer our assistance
Check that we have sufficient time to meet their needs
Understand that it may be difficult for people to open up and talk about their struggles
Be mindful to have patience when hearing them out
Remember the purpose of our support (i.e. to provide a listening ear, be a comforting presence, or simply to let them know we are there for them whenever they feel like sharing)
If we do not think we are ready, we can ask someone who can offer better support to do so instead.
How can we provide support?
When supporting others, starting a conversation can be the hardest part. To make it easier, we can keep in mind to:

Pick an appropriate time for the conversation

Let them know why we would like to have a conversation with them

Choose a quiet environment with enough privacy so that we can help them feel comfortable
To show our support for them, we can also act with CARE. Click on the CARE buttons below to learn what they stand for:
Show
Concern
Express that we care and want to help.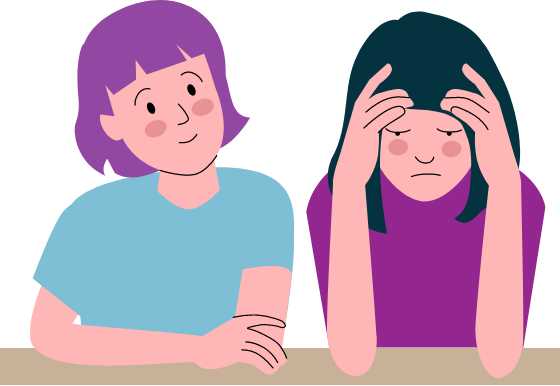 Let them know that we understand what they are going through and offer them support through our language.
For example, we can say:
"I'm here for you if you need someone to talk to or if you need any help."
"I may not have all the answers but let's get through this together."
Actively

Listen

Give them our full attention and show them that we are interested in what they are sharing with us.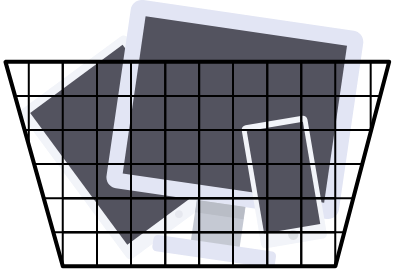 Remove all distractions such as our devices to show that we are fully focused on what they have to say.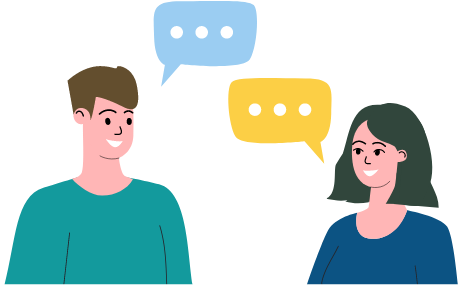 Reassure them that we are listening using verbal cues, such as:
"I hear what you're saying."
"Go on, I want to hear more on that."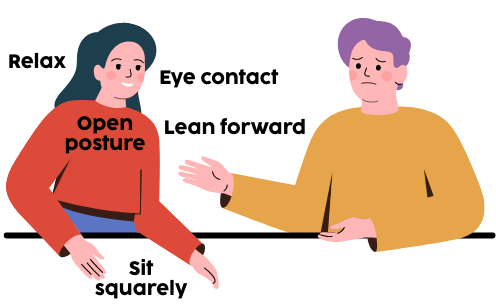 Use body language cues such as S.O.L.E.R. to show that we are interested and paying attention. For example, we should:
S

it Squarely Facing Them
Have an

O

pen posture

L

ean forward
Make

E

ye contact
Be

R

elaxed
Respond

Effectively

Communicate well to create a safe space that encourages someone to trust and open up to us. This

involves knowing what to say and when to say it during the conversation.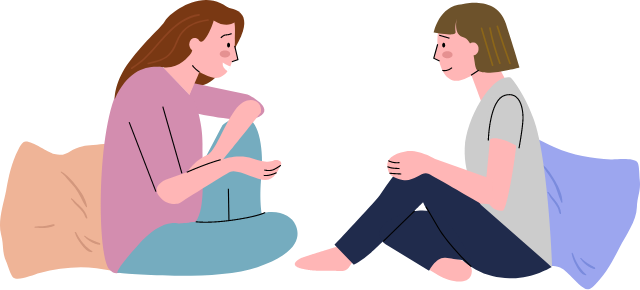 Instead of:
Trivialising their situation and
feelings by forcing our opinions on them, such as saying:
"You'll be fine, stop worrying."
"There are others who have it worse."
We can try:
Showing them that we understand their
point of view to help validate their feelings, such as saying:
"I understand that this must be tough on you…"
"It takes a lot of courage to share your feelings like this. I'm proud of you for being open with me."
Instead of:
Asking close-ended questions such as:
"You feel sad, right?"
"Are you feeling better today?"
We can try:
Using open-ended questions to encourage them to share more. For example, we can say:
"How are you feeling today?"
"How's it going?"
"What's up? You seem a bit down. What's on your mind?"
"Can you share with me more about…?"
"How does that make you feel?"
Instead of:
Trying to relate to them by taking over the conversation to share our own experiences and making them feel like their feelings are not heard or validated
We can try:
Making the conversation about them. For example, we can say:
"It's okay to feel overwhelmed or upset. Let's talk about what's making you feel that way."
Instead of:
Jumping to conclusions, offering unsolicited advice, or trying to problem-solve for them, such as saying:
"If I were you, I would do this…"
We can try:
Letting them express how they feel without interrupting them.
Instead of:
Continuously prompting them to get a response, such as saying:
"I can't help you if you don't want to share."
"I can't read your mind."
We can try:
Accepting silences during the conversation as this could mean:
They need a little more time to think.
They need a few moments to rein in their emotions.
For example, we can say:
"It's okay to take some time for yourself to process your emotions. I'm here whenever you're ready to talk."
Be
Empathetic
Put ourselves in their shoes to understand their feelings, so we can better support them.
Instead of:
Imposing our views based on our experiences or judging them and making them feel invalidated, such as saying:
"When I was in the same situation, I did…"
"Based on my experience, I would do…"
"What you should do now is…"
"It is not that bad…"
We can try
Paraphrasing their thoughts to show them we understand what they are trying to say. It also helps them gather their thoughts and share more about how they feel.
For example, we can say:
"If I am hearing you right, you mean…"
"So, you felt frustrated when…"
How can we
follow up after
our conversation?
How can we better support seniors?
As seniors enter their golden years, we may start to see changes in their health and lifestyles. When supporting them,

To do so, we can:
we can care for their mental well-being just like we would their physical health.
Be more observant
They may feel reluctant to speak up in fear of being a burden. To make it easier for them to share their troubles with us, we can try being more sensitive to their behaviours.
For example, we can:
Observe their body language to better understand their feelings and thoughts
Break the ice by asking simple questions like "Have you eaten?"
Be patient
Sometimes, seniors may face difficulties communicating due to language barriers, troubles with their hearing, or dementia. We should try to be empathetic and patient with them as well as accommodate them where we can.
For example, we can:
Try to speak slowly and use simple words
Repeat ourselves (avoid getting frustrated or angry if we need to do so more than once)
Use other tools like writing or gestures to try to convey our message
Learn short phrases in their preferred language such as Malay, or dialects like Hokkien and Cantonese to help them get more comfortable with sharing
Stay in touch
We can also support seniors by spending time with them. This makes them feel cared for and allows us to connect with them.
For example, we can:
Bring them out for a meal or drink
Plan and schedule outings together with them
Check-in with them through visits or regular phone calls (if we do not live with them)
Accompany them to places where they may have the opportunity to foster new friendships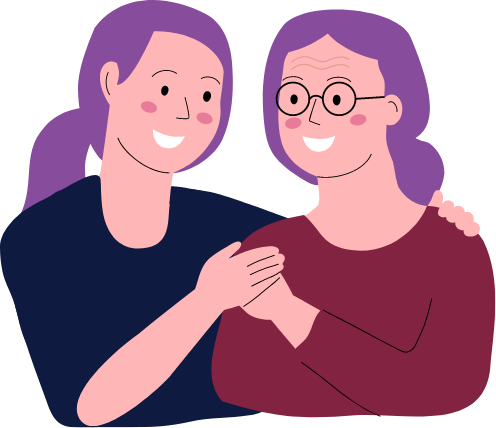 Supporting ourselves while
caring for others
Supporting those around us while juggling our own life's demands can take a toll on our physical and mental well-being and make it harder for us to support those we care for. Hence, it is important for us to practise and prioritise self-care. It is also important to remember that there is no need to feel guilty about attending to our needs.

Refer to these tips on managing stress and emotions to keep ourselves healthy.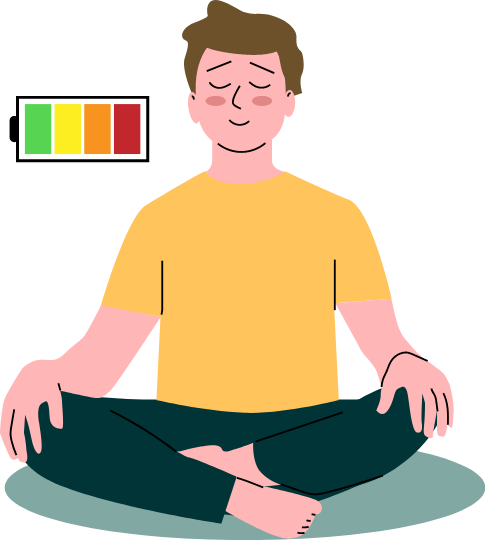 QUIZ
Discover your
supporting style
Curious about how you support others? Try this fun quiz to find out what your style is and learn some tips to
boost your supportive skills!
Start quiz